Loving Pi
"…I don't know how to tell you… What you've meant to me…
You give my heart an area… Well, at least approximately…"
Many years before he broke out on the scene with his now-famous rap hit, Pi Diddy was just a guy in love with a number. And his first way of sharing these feelings was through a love ballad that he simply called "Loving Pi."
Not all of the song was written by Pi Diddy — part of it was composed by the number Pi itself. What does this mean? He decided to assign each digit, 0 through 9, to a key in the C major scale, like this: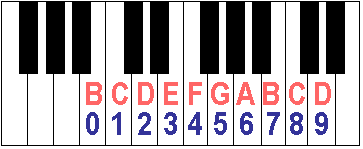 When he played the first 30 digits in this way, singing along as he went, a song was born. A few heart-filled verses later, the ballad was complete. He has since performed it around Pi Day for hundreds of students and number-lovers of all ages. He finally recorded it in early 2008, nearly a decade after its Pi Day debut.
Listen to a brief clip!
After sharing his enthusiasm for Pi in so many ways since the founding of TeachPi.org, he hopes you'll support this site in a small way by buying "Loving Pi" for your own collection or to share with your class. Students have enjoyed this tune for many years, and Pi Diddy hopes that you and your friends and students will, too.
As always, let us know what you think! Share any thoughts, reactions, or stories about playing this song for your students.